Reopening of the Paul Sacher Foundation
The Paul Sacher Foundation is open again to visitors since 3 January 2022. The number of workplaces in the reading rooms has been adjusted to comply with the required physical distancing measures. It is therefore advisable to register as early as possible.
Guest scholars are requested to submit a COVID certificate according to 2G-requirements (vaccination or recovery). Face coverings continue to be required.
---
Contact & Information
Paul Sacher Stiftung
Münsterplatz 4, CH-4051 Basel
Switzerland
Phone: +41 61 269 66 44
Fax: +41 61 261 91 83

Visitors are asked to arrange an appointment with the secretary in due time.
Contact
Visiting hours
Our opening hours are Monday to Friday, 9 am - 12 and 1 pm - 4.45 pm.
Holidays
The Foundation will remain closed for visitors on the following days: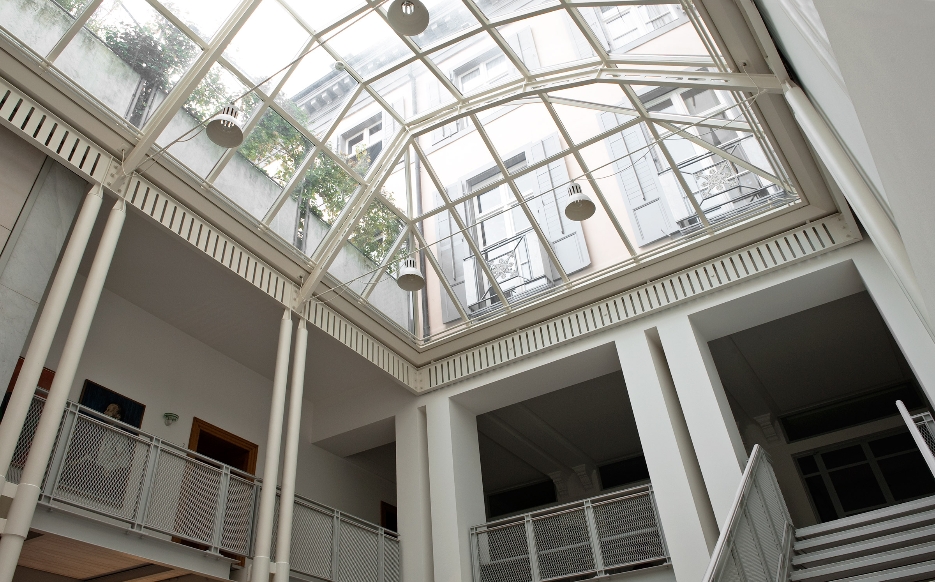 | | |
| --- | --- |
| 20 – 31 Dec 2021 | Christmas/New Year 2021/22 |
| 7 – 11 Mar 2022 | Carnival |
| 15 – 18 Apr 2022 | Easter |
| 26 + 27 May 2022 | Ascension Day |
| 6 Jun 2022 | Whit Monday |
| 4 Jul – 5 Aug 2022 | Summer holidays |
| 26 Dec 2022 – 6 Jan 2023 | Christmas/New Year 2022/23 |
| 27 Feb – 3 Mar 2023 | Carnival |
| 7 – 10 Apr 2023 | Easter |
| 1 May 2023 | Labor Day |
| 18 + 19 May 2023 | Ascension Day |
| 29 May 2023 | Whit Monday |
| 3 Jul – 4 Aug 2023 | Summer holidays |